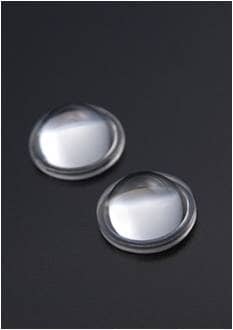 Silicone lens can control optical characteristic of LEDs, which has high directivity. For High power / High brightness LEDs, our lens provides superior reliability. We can provide part lens; attached with SMD LED package, and insert lens; molding lens directly to COB or premolded lead frame.We fulfill each customer's needs from design to mass production. Global support from our worldwide network..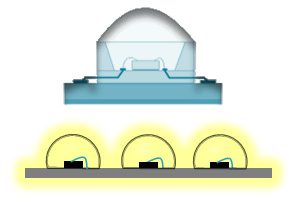 High Reliability
Heat resistance for high power and bright LEDs UV resistant for blue and near ultraviolet LEDs Lead – free solder; RoHS compliant
Superior Injection Molding System
High aspect shapes, spherical and aspherical lenses available Excellent surface accuracy Preventing inside bubble.
Environmentally Friendly
No waste materials with our runner-less and flash-free system
Material Type
Rubber
Rubber A
Resin
Resin A
Refraction index
586nm/3mm
1.42
1.41
1.535
1.4|1.45
Transparent
586nm/3mm
0.94
0.93
95%
95%

Hardness

Shore A
86
70
|
|
Shore D
|
|
65
40|50

Coefficient of Expansion
(MA-50)
SHIMADZU Thermometer
Chemical Analyzer

2.73*10-4/K
|
1.86*10-4/K
|
Water Absorption
3mm/100/PH
0.000571
|
0.000913
|