We provide various packaging products including our original KC film (co-extrusion CPP for packaging noodles) and original standing pouches. KISCO provides a wide range of support in the field of film packaging, ranging from the material and film composition/selection, packaging form considerations to graphic design suggestions, and packaging machine field service.
Noodles, side dishes, cosmetics, pet food, bread, functional nutritional food, etc.
Suggestions relating to material, original film, product development, processing technology and design are possible.

We can correspond promptly using our strength in proposing ideas and wealth of information. (Field staff)

We have patented products. (Standing pouch: Refillable and for side dishes)

We have the know-how to develop functional packages with oxygen and vapor barriers.
Co-extrusion CPP for Packaging Noodles "KC Film"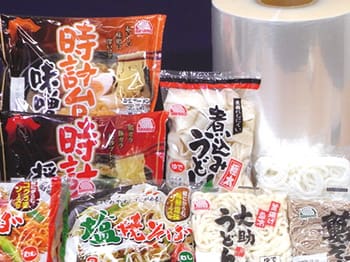 KC film is the first PP/LL co-extrusion film developed in Japan.
For more details, click here.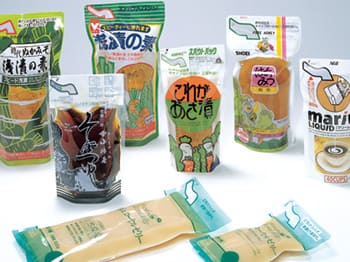 We offer various pouch products including self-sealing spout packs and refillable packs.
For more details, click here.