Co-extrusion CPP for Packaging Noodles "KC Film"
KISCO's KC series co-extrusion CPP film has been in the market for 30 years and has improved/evolved through the years with feedback from our customers. KC-210 was the first ever PP/LL co-extrusion film developed in Japan used to package noodles. The KC series is used primarily for the inside and outside packaging of noodles and it features sturdiness and transparency. In addition, as it has excellent self sealing functionality, it is also used to store mushrooms and non-food items (plastic molded items, small components).
Noodles, bread, side dishes, clothes, sundries, etc.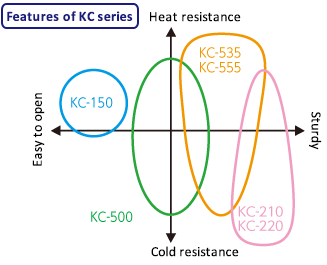 Product Name

Composition

Thickness

Features

KC-150

PP/PP/PP

25

Easiness to open

KC-210

PP/LL/PP

20・25・30・40

Superior cold resistance, soft texture
Transparent, glossy
Transparent, glossy

KC-220

PP/PP/PP

20・25・30・40

KC-Equipped with the functions of KC-210,
High rigidity, and heat and water resistance

KC-500

PP/PP/PP

25・30・40

High rigidity, and heat and water resistance

KC-535

PP/PP/PP

25・30・40

Low temperature seal,
tightly covered seal
envelope (wrap) seal, heat and water resistance

KC-555

PP/PP/PP

25・30・40

KC-Equipped with the functions of KC-535,
minimal slip type